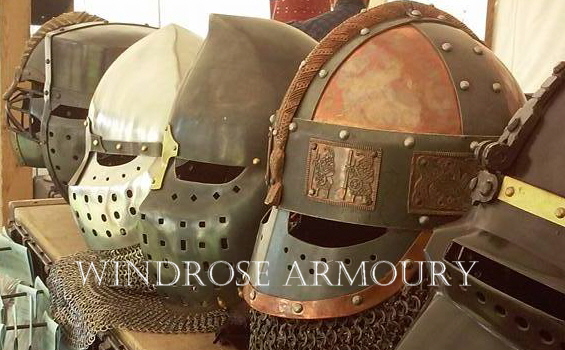 Updated 9/16/2022
Welcome to Windrose Armoury!
Finally have the website updated after our trip to Pennsic War.
Now working on replacing items that are out of stock due to the war. EVA foam should be in on Monday and we currently have an order out with our caster. All orders have been shipped with the exception of those that are waiting on restock items.
Thank you for your patience!
◊◊◊◊◊
In case you missed the announcement on the Windrose Armoury Facebook page:
"It has been a long time since I posted anything here, and thought I would break my silence with an announcement.
I will be retiring from armoring this year to find out what I am going to be when I grow up. What this means for Windrose Armoury and Mandrake Armory, their products and facilities is still to be determined, but I will be finishing every single item left on my order list. I should be able to wrap that up completely by the end of spring. There are also a huge assortment of partially finished stock projects on shelves here in the shop that may get finished, and posted online for sale.
The web site will continue to function, and some operations, like custom shields, will continue unchanged until we have a better idea what the future holds.
I made my first piece of armor in 1985, sold my first piece in 1989, and have managed to eke out a 30+ year career doing a thing that was as much a passion as it was hard to explain to anyone not involved in our hobbies. Having seen many other armorers get behind and flame out, it was a point of emphasis not to be one of them, to remain professional and accountable to our customers no matter what might be going on in our lives. Until the last few years I had managed that extremely well, and I take great pride in that. But the loss of our daughter in 2020, some physical and mental health issues of my own and a substantial injury to my essential partner Anita has put me behind in a way I never have been. Years of abuse have produced nerve and impact damage that has gotten severe in my arms, hands and neck, making each work day difficult. All these factors have become a road block to continuing that I just can't summon the will to climb over.
They say the first thing to do when you're in a hole is to stop digging. So I'm going to finish my order book, click my heels together and leave the company I founded in 1993. Over these decades my job has enabled me to be a knight, a teacher, a friend, a competitor, a counselor and a giant pain in the ass, and I have few regrets about any of those roles. I hope I will leave behind a reputation for honest hard work, professional and personal integrity, and an attention to details. I know I'm leaving behind a substantial body of work that has graced fields across many groups and activities.
It has been an honor to serve our customers for all these years, and the faith and trust shown to us over that time never ceases to warm me. We truly have had the greatest customers you could ask for, and I will miss that part of this job the most."
John/Johannes
◊◊◊◊◊
Due to the latest significant price increases from our suppliers for our foam products (over 25%), we are having to increase our EVA Foam and Weapons Architectural Foam prices. We apologize for this increase and hope that things will settle down soon and enable us to return to pre-COVID/inflationary pricing.
◊◊◊◊◊
14" bucklers are back in stock!!!!!
Not only do we have them in the traditional 14 gauge mild steel, but we also have them in 16 gauge stainless steel and .125" thick aluminum (just for you light weapons folks). Visit our In-Stock Shields page for more information.
◊◊◊◊◊
Shipping Update:
Since the last time USPS increased their shipping rates in we have noticed a significant increase in the difference between the shipping rates quoted through the website and actual shipping costs. We have reviewed our site parameters and made some adjustments. While the estimates from the website are still going to be off it should only be $1-$15 off instead of $50-$75 for smaller packages however there are still significant problems with large packages. We are also investigating some new modules to see if they will help us with getting more accurate quotes.
For more information on how we handle shipping and handling charges, please visit our Shipping and Returns page.
If the quote offered by the shipping calculator seems excessive, please don't hesitate to drop us an email with the details of your order and your shipping address; we would be happy check the estimate and provide a more accurate quote.
◊◊◊◊◊
In-Stock Shield pages have just been updated. Don't want to wait 7-10 days for the building of a custom shield? Take a look at what we have In Stock.
◊◊◊◊◊
If you haven't stopped by the In-Stock Helmet page recently, you should. We've added a number of new helms to the list!
◊◊◊◊◊
We thank you for your continued patronage and support and wish you all the best 2022 has to offer.
◊◊◊◊◊
Missed our "Contact Us" Page?
***Our address is***
Windrose Armoury
1470 W Rutledge Dr.
Snowflake, AZ 85937
***Our phone number is***
928-536-9635
◊◊◊◊◊
With John's announcement (see above),
our 2022 event calendar will be significantly pared down.
We are looking forward to to seeing everyone at
Pennsic War.