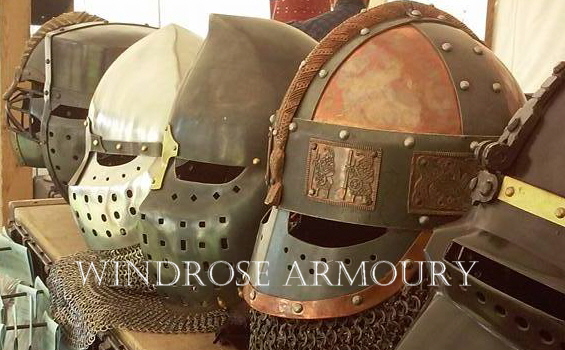 Updated 04/17/2020
Welcome to Windrose Armoury!
We have been adding a bunch of "new" dress accessories to our line of options. Some of them are items we carried several years ago and have only now been able to get back into production and some are new items never before seen in our shop. This is just a small smattering of what is to come.
With our new caster we have been able to decrease to price on some or our items such as our Verveilles, Romano-British Belt Buckle and the Trumpington Buckle Set. Anything that we have been able to lower the price on has been listed with "***NEW LOW PRICE***".
◊◊◊◊◊
14" bucklers are back in stock!!!!!
Not only do we have them in the traditional 14 gauge mild steel, but we also have them in 16 gauge stainless steel and .125" thick aluminum (just for you light weapons folks). Visit our In-Stock Shields page for more information.
◊◊◊◊◊
Shipping Update:
Since USPS increased their shipping rates in January we have noticed a significant increase in the difference between the shipping rates quoted through the website and actual shipping costs. We have reviewed our site parameters and made some adjustments. While the estimates from the website are still going to be off it should only be $1-$15 off instead of $50-$75. We are also investigating some new modules to see if they will help us with getting more accurate quotes.
For more information on how we handle shipping and handling charges, please visit our Shipping and Returns page.
◊◊◊◊◊
We have added the Fiore Sparring Helmet to our MTO line. If you have been after one but your size is always out of stock, go to the Armour page of the website and click on Made to Order. There you will find a link for the MTO Fiore Sparring Helmet. Just like our other MTO helms, we guarentee the helm will be ready for delivery within 120 days from the date of order.
◊◊◊◊◊
In-Stock Shield pages have just been updated. Don't want to wait 7-10 days for the building of a custom shield? Take a look at what we have In Stock.
◊◊◊◊◊
If you haven't stopped by the In-Stock Helmet page recently, you should. We've added a number of new helms to the list!
◊◊◊◊◊
We have revised our custom shield order pages. They now have more options and you will no longer have to order your shield basket or boss separately. We hope this will make your shield buying experience a little easier. As always, if you have any questions please call or email.
◊◊◊◊◊
We thank you for your continued patronage and support and wish you all the best 2020 has to offer.
◊◊◊◊◊
Missed our "Contact Us" Page?
***Our address is***
Windrose Armoury
PO Box 2350
Snowflake, AZ 85937
***Our phone number is***
928-536-9635
◊◊◊◊◊
Our event calendar for this year will include all the usual suspects: Gulf Wars, Pennsic and Great Western War. We hope to see you out there.