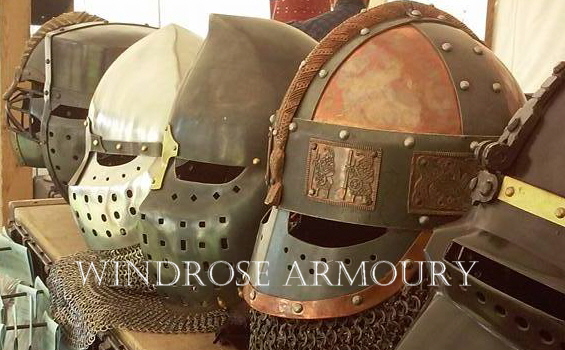 Updated 09/20/2019
Welcome to Windrose Armoury!
Our shop is closed until October 15 as we are on a much over due family vacation. However, we will have a booth set up at Great Western War October 8 - 14, 2019. Come and keep Master Domingo company while he attends to your fighting needs.
While we are away we will not be unable to ship orders that come in. All orders will be processed and shipped as soon as we return, in the order in which they were received. Orders that include items we sold out of at Great Western War or items requiring custom tasks may take a little longer.
◊◊◊◊◊
We have completed our shield run for this week so no more shields will be built/shipped until we return to the shop Oct. 16.
◊◊◊◊◊
We have acquired a sheet of the elusive 7075 aluminum for shields so we can do a very limited run of premium shields. If you are interested in a premium shield contact us asap at sales@windrosearmoury.com to place an order. In the email let us know what style of shield you want and what options then we can quote you on the order. Styles and options can be reviewed at our Custom Shields page.
◊◊◊◊◊
PRE-ORDERS are being taken for the 14 inch 14 gauge mild steel bucklers.
We are offering a special Pre-Order Price of $75.00 plus shipping. Due to the rising costs of materials, once they arrive the price will go up to $90.00. Act now to get your special Pre-Order Pricing.
◊◊◊◊◊
Shipping Update:
After several days of adjusting and testing the shipping parameters on the website we are happy to announce that on packages under 6 pounds the estimates provided by the website for USPS Priority Mail, Priority Mail Express and Retail Ground are the same as the actual shipping and handling rates for these services. Unfortunately, there is no way in the system to specify which of our product can fit into flat rate packaging, so we will continue using flat rate packaging when the order will fit, and it is more cost effective, and either refund the difference in shipping (if the order is paid using a credit card) or capture only the actual costs (if the order is paid using PayPal).
We have also added UPS and another shipping option!
Unfortunately, shipping estimates for orders over 6 pounds will still be off by roughly $10-$20 (or more). This is because there is no way to specify in the parameters the box sizes we use to ship items like our Coat of Plates, Helmets and Shields. These items tend to be over 1 cubic foot and thus incur balloon rates. As such, the website will either provide estimates that are either to little or too much. There is no in between. To prevent us from have to come to you to request more money to cover shipping costs, the parameters are set up to provide the higher rates.
If you would like a more accurate shipping quote on large items, please email us. Don't forget to provide your shipping address in your email so we can acquire the requested information.
For more details on how we handle shipping for larger items, please visit our Shipping and Returns page.
◊◊◊◊◊
It is hard to believe the holidays are almost upon us. Start making your shopping plans and keep you eyes peeled to this spot to discover what our weekly holiday specials will be. They will begin the weekend of Thanksgiving.
◊◊◊◊◊
We have added the Fiore Sparring Helmet to our MTO line. If you have been after one but your size is always out of stock, go to the Armour page of the website and click on Made to Order. There you will find a link for the MTO Fiore Sparring Helmet. Just like our other MTO helms, we guarentee the helm will be ready for delivery within 120 days from the date of order.
◊◊◊◊◊
In-Stock Shield pages have just been updated. Don't want to wait 7-10 days for the building of a custom shield? Take a look at what we have In Stock.
◊◊◊◊◊
If you haven't stopped by the In-Stock Helmet page recently, you should. We've added a number of new helms to the list!
◊◊◊◊◊
We have revised our custom shield order pages. They now have more options and you will no longer have to order your shield basket or boss separately. We hope this will make your shield buying experience a little easier. As always, if you have any questions please call or email.
◊◊◊◊◊
We thank you for your continued patronage and support and wish you all the best 2018 has to offer.
◊◊◊◊◊
Missed our "Contact Us" Page?
***Our address is***
Windrose Armoury
PO Box 2350
Snowflake, AZ 85937
***Our phone number is***
928-536-9635
◊◊◊◊◊
Our event calendar for this year will include all the usual suspects: Estrella War, Gulf Wars, Pennsic and Great Western War. We hope to see you out there.